Clinical Research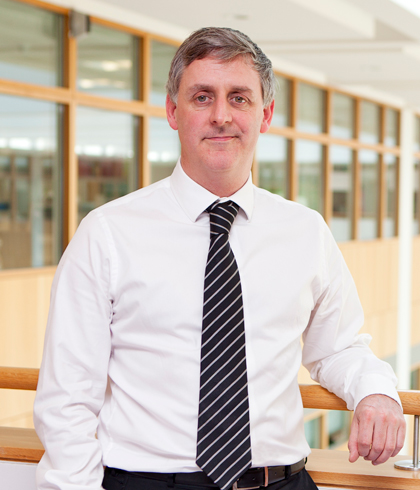 Professor Alistair Nichol
Critical Care Medicine
There is an active research programs within the Department of Critical Care Medicine in SVUH.
Clinical research activity includes collaboration with the Australian and New Zealand Intensive Care Research Centre (ANZIC), an internationally renowned research institute lead by Prof Jamie Cooper and Prof Rinaldo Bellomo. We are also involved with the ESICM Trials Group.
St Vincent's University Hospital Intensive Care Unit is currently enrolling patients for a number of clinical research studies;.
2018 update: Trainee research achievements, studies and publications
1. David Cosgrave has completed recruitment into a double blind RCT testing naloxone infection to reduce complications following IT opioids for major hepatobiliary surgery. This is a significant achievement and the first EU Drug trial completed in Anesthesia in Ireland, to our knowledge. The protocol paper has been published in Trials (below). David is analyzing the results and hopes to submit his thesis in May. Once we have prepared the final manuscript on the data analysis is complete. We will present his MD work and the results of this trial to the Dept. in 2018. Well done David!
The NAPRESSIM trial: the use of low-dose, prophylactic naloxone infusion to prevent respiratory depression with intrathecally administered morphine in elective hepatobiliary surgery: a study protocol and statistical analysis plan for a randomised controlled trial.
Cosgrave D, Galligan M, Soukhin E, McMullan V, McGuinness S, Puttappa A, Conlon N, Boylan J, Hussain R, Doran P, Nichol A.
Trials. 2017 Dec 29;18(1):633. PMID: 29284510
2. Laura Flood has had two review papers published in Anaesthesia and intensive Care.
Acute kidney injury and the critically ill
Acute pancreatitis: an intensive care perspective
3. Stephen Duff was awarded a UCD Newman fellowship and he has commenced his PhD in January 2018. He is examining the utility of biomarkers in AKI using a recently established biobank in SVUH. Thanks to the SVAF for helping support his PhD program.
2018: Update on current SVUH research studies
All these studies are supported by the Irish Critical Care- Clinical Trial Network located in SVUH. Kathy, Nicola and Leanne and all the ICU clinical staff deserve great credit for all their effort

1. SPICE- (Goal Directed Sedation versus standard sedation). The SVUH ICU recruited 128 Patients were enrolled and the results are due in 6-9 months. Outstanding effort this fastest recruiting centre in the world and overall 9th highest recruiter overall!!!!

2. The TRANSFUSE Study – (Age of Red Blood Cells in the critically ill) has completed and the main manuscript published NEJM 2017-PMID: 25437218. In addition, we conducted an updated Systematic review, which includes these results and was published March 2018 PMID: 29526337. Follow-up analysis with other major trials (INFORM, ABLE, RECESS etc.). National Institutes of Health grant submitted to assist support US data processing Minnesota, US patient recruitment. An erratum has been submitted to the NEJM describing a miss-reporting of a subgroup finding. Fresher blood results increased blood stream infections not febrile non—haemolytic transfusion reactions.

3. The PHARLAP Study- (Open Lung ventilation versus standard ventilation in ARDS) has ceased recruitment in Ireland and globally due to a scientific change in knowledge. - similar intervention demonstrated harm (ART study PMID:28973363)- results of PHARLAP pending. Recruitment was halted by management Committee due to loss of equipoise. Protocol Paper in Press- Critical Care and Resuscitation-Next edition. Data cleaning is underway and analysis will commence shortly. Main manuscript and results presentation Jan 2019 at Critical Care Reviews 2019- Save the date!!!.

4. The PEPTIC Study – (Proton pump inhibitors versus H2 Receptor Blockers on gastric prophylaxis). Recruitment successfully completed in Ireland, Australia and New Zealand. Awaiting UK recruitment to complete prior to data lock, data follow-up, analysis and manuscript preparation in Q4 2018. Protocol Paper completed –awaiting submission

5. The REST (Extra-Corporeal CO2 Removal in Acute Respiratory Failure)- Study- Successful completion of UK run in phase. Roll out of UK wide and ROI sites. Ethical and regulatory approval in (SVUH)-only ROI site to date. Recruitment N= 208 (32 in Ireland) as of 20th April 2018. Protocol Paper Published. This has resulted in a significant investment, in equipment, training and consumables that all comes to the Department for free. It will establish us as an ECLS center (only the second in Ireland). Thanks to Donal and Michael for their support in this.

6. STARRT-AKI (accelerated versus standard initiation of CRRT). This Canadian Critical Care Clinical Trials Group RCT has to date enrolled in one Irish site – SVUH to date (Sean Bagshaw). Danny McAuley was successful in getting funding to support this study in the UK- well done!

7. STOP-AKI an industry funded study which was available to all CTG sites. One Irish site (SVUH) participated and the results are due in Summer 2018.
2016-7: Clinical Research SVUH
HARP 2 (Hydroxymethylglutaryl-CoA Reductase Inhibition with Simvastatin in Acute Lung Injury to Reduce Pulmonary Dysfunction) . A phase II randomised controlled trial of simvastatin in patient with Acute Lung Injury. Lead Prof Danny Mac Auley (Belfast).
ARISE Australasian Resuscitation In Sepsis Evaluation Randomised Controlled Trial. A Multi-centre, randomised controlled trial of early goal-directed therapy in patients presenting to the Emergency Department with severe sepsis. Lead Prof Sany Peake (SA, Australia). http://www.anzicrc.monash.org/arise-rct.html
TRANSFUSE STandaRd Issue TrANsfusion versuS Fresher red blood cell Use in intenSive care
(TRANSFUSE) – a randomized controlled trial. Lead Prof Jamie Cooper (Vic,
Australia). http://www.anzicrc.monash.org/transfuse-rct.html
PHARLAP A multi-centre randomised controlled trial of an Open Lung Strategy including Permissive Hypercapnia, Alveolar Recruitment and Low Airway Pressure in patients with acute respiratory distress syndrome. A Multi-centre, phase II randomised controlled trial of an open lung ventilation strategy in patients with acute respiratory distress syndrome. Lead Prof A Nichol (Dublin). http://www.anzicrc.monash.org/pharlaprct.html
AKI Prospective Validation of Acute Kidney Injury Biomarkers and Definitions in Critically ill Patients. This observational study is led by Prof P Murray (Dublin).
IC-GLOSSARI The Intensive Care GLObal Study on Severe Acute Respiratory Infection
Lung – safe http://www.esicm.org/research/lung-safe
The Intensive Care GLObal Study on Severe Acute Respiratory Infection
http://www.esicm.org/research/icglossari
We have agreed to join the European CLIN-Net hospital network to participate in the Hospital- and Laboratory Networks CLIN-Net and LAB-Net supporting the consortia COMBACTE, Academic Partners of COMBACTE (APC) Consortium for surveillance, prevention and treatment of hospital-acquired S. aureus infections, and Academic Partners of COMBACTE 2 (APC2).
St Vincent's University Hospital ICU Study updates - November 2016
Kathy our research coordinator in the unit has been fantastic. Today (at 01:30), St Vincent's recruited its 100th patient into TRANSFUSE. This is a large multi-center RCT, which will address the question of whether fresher blood improves survival compared to standard issue (old) blood. It is a really important and topical issue (for more info see https://www.ncbi.nlm.nih.gov/pubmed/25437218 and http://www.iccctg.org/index.php/transfuse-trial1)
We have recruited 33 patients into SPICE: A large phase III RCT, which will determine if sedation with dexmetatomidine impacts survival, length of stay etc. Like transfuse this is very topical and will have a direct impact on clinical practice and costs (for more info see http://www.iccctg.org/index.php/spice-iii-trial).
PHARLAP: We have recruited 6 patients in St Vincent's University Hospital. This is a multi center RCT phase II looking at the benefit of an open lung strategy in ARDS. (for more info see http://www.iccctg.org/index.php/pharlap-trial)
PEPTIC: This really novel registry based cluster RCT started in St Vincent's University Hospital last month. For the next 6 months PPIs will be our default gastric ulcer prophylaxis and after 6 month we will change to H2RB's. To date we are the only Northern hemispheres ICU to be taking part in this study. http://www.iccctg.org/index.php/peptic-trial2
STARRT-AKI: This study is in collaboration with the Canadian Clinical Trials groups and will look at standard versus accelerated CRRT in AKI in ICU. We have all the approvals and will start next week.
STOP-AKI: A study looking at alkaline phosphate as a treatment in ICU patients with early AKI. This is an industry study with Pat Murray (Dean of Medicine in UCD) is a PI and which will start in 3 weeks.
NAPRESSIM: This study lead by Dave C and Niamh and John B has progressed really well under Dave's leadership and has recruited over 20 patients. This is the first investigator lead Clinical trial (as per the EU directive) that we are aware ahs ever been carried out in Ireland. The UCD-CRC (P Doran) has been very helpful.
New Projects 2016
A GLP-1 study in post op critically ill patients led by Dr. Shrijitnair SpR will start in end November 2016 in the ICU
Contact Details
Professorial Chair: Prof A Nichol alistair.nichol@ucd.ie
Research Coordinator: Edel Meaney edel.meaney@ucd.ie